Article first appeared InSight+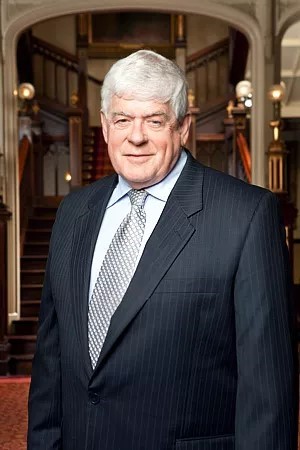 AUSTRALIAN orthopaedics, Australian medicine and the Australian Olympic water polo community have lost an esteemed friend and trusted colleague with the death of Dr John Meredith Harrison, AM, on Saturday 2 November 2019. John had a fatal cardiac infarction while walking at his much-loved Balmoral Beach, where he enjoyed regular open ocean swimming with the Balmoral Beach Club. He leaves behind a sister, Susan; a brother, Robert; three children, Steven, Graeme and Elizabeth; a daughter-in-law Cristina; and two granddaughters, Gabriella and Clara. His late and beloved wife Debbie died from breast cancer in 2007. His loss is deeply felt.
On 12 January 1939, the social editor of the Daily Telegraph published a photo of a radiant young woman tending her front garden in Cremorne. The caption on the photo introduced Marjorie Joy Parker (known to her friends as Marnie) who had just announced her engagement to a Mr John Jasper Harrison (Ernest John Jasper George Harrison), a NSW Government geologist and only son of the late George and Mrs Harrison of Hampstead, England. They married on 28 October 1939.
John was born on 21 May 1944, the second of three children. He benefited greatly from loving and supportive parents. John attended Middle Harbour Public School and Fort Street Opportunity School before his father accepted a challenging assignment in Egypt, which involved moving the family to Cairo, where John attended the English School. According to John:
"There wasn't a lot to do in Egypt, and life revolved around club life with other Europeans. So being a bit of a masochist, I swam and swam and swam."
John's swimming was interrupted in July 1956 when the then Egyptian leader Gamal Abdel Nasser decided to nationalise the Suez Canal. Subsequently, the Harrisons, along with many other families, were evacuated and John found himself at North Sydney Boys' High School, where he became a prefect and a competitive swimmer. He was also a member of the School Cadet Corps.
In 1961, John commenced medicine at the University of Sydney, after he briefly considered law. He worked hard for 3 years and then took a year out to complete a Bachelor of Science (Med) "while majoring in water polo".
John's love affair with water lasted all his life. He could not have foreseen that his passion for water polo would eventually lead him to be involved in one of the biggest controversies in Australian Olympic history. After touring with the Australian water polo and swimming team in 1967, John was selected in the Australian water polo side for the 1968 Olympics. The team qualified for the Olympics and a draw was done by FINA – the world swimming body – with Australia to play the Soviet Union in the first match. A dispute between FINA and the Australian Olympic Federation, together with the International Olympic Committee eventually led to the team being unable to compete.
John, who was goalkeeper, had taken a year off from his medical studies to compete in the Olympics and was devastated. To add insult to injury, his Dean of Medicine did not let him sit the finals a month early to save taking the year off because he was "fed up with you sportsmen".
This incident deeply affected John, and he never stopped fighting for justice for his fellow team members who, through no fault of their own, were denied the opportunity to compete at the Olympics.
John's involvement with sport was extensive and included proudly representing North Sydney Boys' High School in rugby, swimming, and water polo. This was followed by representing CHS, State Colts, the School of Medicine at the University of Sydney, University of Sydney, and Combined Universities in swimming and water polo. He represented New South Wales at the Australian Water Polo Championships continuously from 1965–1972 to 1974–1975. John earned 52 caps representing Australia as goalkeeper.
Dr Harrison graduated in medicine in 1969 with second class honours. Declaring himself not good enough to make the water polo side for the 1972 Munich Olympics, he set off for England to pursue his surgical career. He completed his Fellowship on the Royal College of Surgeons the following year after working at St Bartholomew's Hospital in London as a surgical registrar and senior registrar in thoracic surgery and neurosurgery.
He returned to Sydney and was accepted by the Australian Orthopaedic Training Scheme and subsequently worked as an orthopaedic registrar at the Royal North Shore Hospital, the St George Hospital and the Royal Alexandra Hospital for Children.
As a doctor, he was an honorary orthopaedic surgeon to the NSW Water Polo Association, the Australian women's water polo side at the World Cup in Rome, the Cumberland Cricket Association, Parramatta Rugby Union Club, Hills District Rugby League Football Club, and the Kellyville District Rugby League Football Club. He was also the Australian water polo team manager to the Athens Olympics in 2004 and Australian water polo team doctor.
Dr Harrison's voluntary medical contribution to sport, as well as medicine, was recognised when he was made a Member of the Order of Australia in 2013.
Professionally, as well as joint replacement surgery, Dr Harrison pursued interests in trauma, sports medicine and medico-politics. He undertook study tours of Endo Klinik in Hamburg, where pioneer work in joint replacement and revision surgery was being conducted. He collaborated with US orthopaedic surgeon, Dr Charles Bechtol, in Los Angeles, who he described as "an innovative and original thinker, mentor and friend".
His time in the NSW public hospital system was mostly spent as an honorary orthopaedic surgeon, which meant accepting no payment for the public medical treatment he provided while retaining private practice rights. John valued the honorary system of medical appointments in public hospitals. He was critical of subsequent Health Department policy designed to eliminate honorary practice in NSW public hospitals, describing it as counter-productive.
His honorary service included Parramatta District Hospital, Lottie Stewart Hospital, Auburn District Hospital and Westmead Hospital, where he was reinstated in 1989, with existing seniority as an honorary senior orthopaedic surgeon, having resigned in 1984 in the Doctors' Dispute.
Around the time that John completed his surgical Fellowship, he met Debra Anne Manners, a radiographer, who he married at the Church of Christ, Caringbah on 10 June 1978. John and Debbie enjoyed a happy married life, raising three children and restoring a heritage property in Seven Hills which became their family home and the centre of many happy social and family gatherings. Debbie understood her husband's incredible work ethic and threw her full support behind everything he did, including his expanding collection of brass beds, medical instruments and historic books. Her loss in 2007 was devastating.
John had trained as an orthopaedic registrar under Dr Bruce Shepherd. They became close friends and trusted allies, particularly after Dr Shepherd led a mass resignation of orthopaedic and other surgical colleagues in what became known as the 1984 Doctors' Dispute.
Controversy not of his making had again interrupted John's life in a most unforeseen way. But he rallied to the cause when the then NSW Premier, Neville Wran, threatened any doctor who would not accept his new hospital contracts with a 7-year ban from the NSW public hospital system.
John had a well informed understanding of politics and politicians. His mother was the niece of Sir Vernon Treatt QC, who become leader of the NSW Opposition and helped establish the Liberal Party of Australia. Although John was not active politically, he read widely and had a firm grip on health legislation and regulation, and in particular, on how it affected patients.
John accompanied Bruce Shepherd to all the important meetings during the dispute. His knowledge of medicine, finance and the law, along with his competitive and strategic experience, proved invaluable in negotiating the final outcome, which would see private practice rights maintained, and those doctors who wished to return to the public hospital system reinstated with seniority. These skills would also prove valuable in the medical indemnity crisis of 2001–2003, when John, the late Dr Don Sheldon and Mr Stephen Milgate were invited to make representations to Prime Minister John Howard on proposed reforms to medical negligence laws in Australia.
Another positive outcome of the Doctors' Dispute was the boost it gave to the non-religious private hospital sector. Baulkham Hills Private Hospital, where Dr John Harrison and Dr Bruce Shepherd established themselves, became a leader in building investment confidence in the private hospitals. The NSW Medical Services Committee was also a gain for the profession arising from the dispute.
Dr Harrison served his patients with skill, compassion and dedication from his rooms in Parramatta and, with his associates, made sure that Sydney's Western suburbs had access to the highest standards of orthopaedic surgery. He also developed a highly regarded medico-legal practice, which was expanded during the latter years of his surgical career, which were mostly spent at Norwest Private Hospital.
Dr John Harrison, AM, was an undisputed leader of his profession. He honoured his Hippocratic Oath and practised the highest possible standards of professional ethics. He served as President of the Australian Orthopaedic Association and was awarded the L O Betts Medal for clinical excellence. He was Chairman of the Australian Society of Orthopaedic Surgeons and the Australian Doctors' Federation, where he was awarded the Bruce Shepherd Medal for outstanding service to independent medicine. He served on numerous committees all his professional life including ethics, medical education and training, finance, workers' compensation and medico-legal.
It is fitting that his orthopaedic fellows and colleagues have the last word in his obituary.
"John has lived a life of concern for his colleagues on a daily basis … A close friend in work and life. A good pair of hands. Trusted … Australian orthopaedics has lost a giant … A voice of reason in a sometimes partisan field … A valued colleague and strong ally for decades … Thoughtful, well considered and humble … Respectful of others who did not share his views … A sound source of personal and professional advice … A sensible tactician and wonderful company. Admirably remembered … Special. A great guy and loved by all … Very clear on the importance of protecting the doctor–/patient relationship … A wonderful man and instrumental in my career … Deeply missed by all of us … A sad loss for the medical profession … Still coming to terms with his loss … Always concerned about competence in the practice of medicine not just orthopaedic surgery … Always wanted the Australian orthopaedic program to be the best in the world … A very strong man in all respects. I respected him … Always happy to help out a colleague's family … Great wisdom and insight into many complex issues … Cannot be replaced but continues as a wonderful, inspiring role model … Intuitive wisdom in speaking and negotiating with tormenting multitudes. A great man … He was a friend and a mentor to most of my generation of orthopaedic surgeons … RIP 'the blocker' you were one of a kind!"
Thank you, John for the remarkable joy and privilege of being your friend and colleague for 30 years. It is a great honour to write your story. We are all grateful for everything you have done.
Stephen Milgate, AM,
Executive Director of the Australian Doctors' Federation.