The Bruce Shepherd Medal 
2019 Recipients
To those who have made an outstanding contribution to independent medicine.
Mr Paul Boyatzis
Paul Boyatzis was Executive Director of the WA AMA for more than 30 years. During this time, he oversaw the growth of the AMA and helped maintain its role as the peak medical body in WA. In addition to his work at the AMA, Paul has committed his time to a number of organisations, including currently serving as Director of Health Training Australia, Director of AMA Youth Foundation, Director of UWA Post Graduate Medical Education and Director and Life member of the Hale Hockey Club.
Those who know Paul describe him as a generous and highly successful CEO who has done a great deal to maintain the independence of the medical profession in the state of WA. Paul has been recognised with a number of awards, including the WA AMA President's Award (2018), the Federal AMA President's Medal for Outstanding contribution to the Medical Profession (2008), and honorary Life Membership of the AMA. Well done, Paul. We celebrate your achievements and distinguished service to independent medicine with the presentation of the Bruce Shepherd Medal.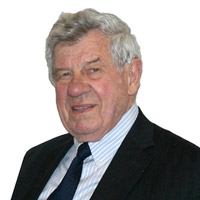 Dr John Buntine
The flesh-eating Mycobacterium ulcerans infection is not a subject that many people find fascinating. However, Dr John Buntine is not many people. John trained at Royal Melbourne Hospital, initially in General Surgery under Dr Weary Dunlop, and later in his chosen specialty of Plastic Surgery under Sir Benjamin Rank. His clinical work has included all aspects of plastic surgery over the last 50 years, including burns, tendon transfer procedures for quadriplegics, and visits to West Africa with the WHO teaching surgery for patients with M. ulcerans infection, as well as other humanitarian missions.
During his long distinguished professional career, John has given an enormous amount of time to defending the independence of the profession through long service (over 30 years) to the Australian Association of Surgeons, as well as the AMA and the Australian Hand Surgery Society. His quiet but persistent determination to prevent the blights of US-style managed care becoming part of the Australian health landscape is today recognised with the presentation of a Bruce Shepherd Medal for distinguished service to independent medicine.
Dr Rosanna Capolingua
A/Prof Rosanna Capolingua began her professional career as a General Practitioner. Her involvement with the AMA saw her advance to State President and later Federal President from 2007-2009. She has also inspired her three children (Cassandra, Lauren and Ben) to follow in her medical footsteps. Examples of Rosanna's contribution to her profession include service on the Medical Council of WA, the National Heart Foundation of WA and the WA Youth Foundation, as a member of the Board of Governors of the University of Notre Dame, a member of the Medical Board of WA, Director of MDA National and a delegate of the World Medical Association (WMA). Dr Capolingua also holds teaching roles in General Practice at the University of WA and the University of Notre Dame.
Above all, Rosanna has been a fearless advocate for the independence of Australian medicine and the need to ensure that doctors always remain the patient's doctor, not the government's doctor or the servant of commercial interests. Rosanna, this medal is a big thank you from all who admire and respect your distinguished service to independent medicine.
Dr Bill Coote
Over the past 30 years, there has been no greater servant of the Australian medical profession than Dr Bill Coote. Bill started his medical career as a General Practitioner in the hinterland of Queensland's Gold Coast. He then pursued his interests in medicine and economics by accepting a role in the Federal AMA as a health economist, and after 5 years went on to become one of the most successful CEOs in the history of the Federal AMA (1992-1998).
Bill's intellectual grip on all areas of health policy and practical economics is unique. This talent could have taken him into senior corporate roles, however, Dr Coote decided instead to serve his profession by accepting policy roles with the Federal Minister for Health Dr Michael Wooldridge and later Federal Health Minister Sussan Ley. He then went on to senior roles in the Australian public service as inaugural CEO of GPET and later Director of the Professional Services Review (PSR). Throughout this time, Dr Coote wrote numerous articles, research and policy papers to help steer the AMA and consequently, the Australian medical profession, through numerous crises and policy debates. Bill Coote is one of the most highly regarded medical administrators, policy advisors, public servants and medical practitioners ever to serve the Australian medical profession. He is awarded the Bruce Shepherd Medal for outstanding and unique service to the independence of Australian medicine.
Dr Meryvn Cross OAM
In the last 100 years, only five people have played professional rugby and successfully graduated as doctors. Dr Merv Cross is one of them. It was therefore no surprise that Dr Cross would go on to become one of the medical profession's most outstanding Knee Surgeons, after pioneering arthroscopic surgery and anterior cruciate ligament reconstruction in Australia. His clinical standing was exemplified with his appointment as Director of Orthopaedics for the Sydney 2000 Olympics. During his professional career, Dr Cross turned his attention to ensuring that the profession he loved and the standard of surgery he practised and taught were not threatened by government intervention or commercial interests. He put it all on the line in the 1984 Doctors' Dispute. From 1989-1996 he served as Chairman of the Australian Society of Orthopaedic Surgeons, using his influence at the highest levels of Australian society to ensure the voice of independent medicine was heard with clarity and truth.
As an esteemed role model for younger Orthopaedic Surgeons and Sports Medicine Practitioners, Dr Cross insists that the role of the doctor is to deliver a clinically excellent result, and not to be side-tracked by other agendas, ideas and proposals that churn out of committees and government departments. Dr Cross's clinical achievements are matched by a friendly and authentically Australian disposition. When he speaks, others listen. When he teaches, younger colleagues gather around. His willingness to represent the profession at the highest levels at difficult times may never be fully appreciated by those who have benefited from it. The ADF recognises Dr Cross's outstanding contribution to independent medicine and his commitment to clinical excellence by presenting him with the Bruce Shepherd Medal.
Dr John Dixon Hughes OAM
The Medical Services Committee of NSW is a unique institution. Incorporated into NSW legislation in 1984, following the NSW Doctors' Dispute, the committee has legislative oversight of all Acts of Parliament in NSW that impact on the practice of medicine. Sydney General Surgeon Dr John Dixon Hughes was its Chairman from 1984 to 1996 and its administrator from 1996 to 2018, marking 34 years of continuous service to this important committee. A graduate of the class of 1953, John has over 60 years' experience as a surgeon, including 21 years as an honorary surgeon at Sydney Hospital.
The Australian Association of Surgeons played a critical role in the 1984 Doctors' Dispute. Dr Dixon Hughes's continued service at all levels of that association, including as President, was an important contributor to the successful outcome of the dispute and the maintenance of clinical independence for doctors working as VMOs in the NSW public hospital system.
During that time, John also contributed to infection control in NSW hospitals by serving as the Chairman of the NSW Health Infection Control Advisory Group from 1996-2005. For long and distinguished service to organisations that support the independence of the Australian medical profession, we hereby present Dr John Dixon Hughes with a Bruce Shepherd Medal.
Dr John Dowden
The pen is mightier than the sword. The current Editor-in-Chief of Australian Prescriber, an independent peer-reviewed journal providing critical commentary on drugs and therapeutics for health professionals, Dr John Dowden has held the role since 2002. John is a founding Director of Therapeutic Guidelines Limited and member of the International Society of Drug Bulletins. His service to the profession is based on his training as a General Practitioner, and the development of his extraordinary talents in technical and scientific writing and editing. This has seen him provide medical leadership as a member of the NH&MRC Expert Advisory Group on ADHD, member of the National Heart Foundation's Hypertension Guidelines Group, and the Chairmanship of expert advisory groups for therapeutic guidelines in respiratory, psychiatric, oral and dental practice.
Working doctors need the support and expertise of doctors like John Dowden. His devotion and expertise to the development of technical guidelines for medical treatment helps keep Australia's medical standards high and protects patients from unsafe practices. Without these protections, independent medicine would not enjoy the trust and confidence of Australian patients. In appreciation for Dr John Dowden's outstanding service to independent medicine, we present him with a Bruce Shepherd Medal.
Dr Mukesh Haikerwal AC
Former Federal President of the Australian Medical Association and Melbourne GP, Professor Mukesh Haikerwal received his medical education in the UK, followed by a Diploma in Obstetrics in Australia, before establishing a successful general medical practice in Melbourne. He then accepted leadership roles in the Australian Medical Association and the RACGP, where he was awarded an honorary life membership for his service. At an international level, his contribution includes being Director and Chair of the World Medical Association Council, which has 22 members representing 111 national medical associations.
After surviving a near fatal unprovoked assault in September 2008, Dr Haikerwal miraculously recovered and immediately commenced work in the area of youth health, including the provision of services to adolescents with mental illness and related issues. Few would have ventured into this challenging area after such a traumatic experience and extensive neurosurgery.
Mukesh continues to serve his profession as a fearless advocate for the ethical application of IT technology in the area of doctor/patient medical records. His articles and presentations have made a significant contribution to clarifying the critical issues at stake for doctors and patients as a result of government and corporate demand for health data. Always willing to speak up for his profession in any medical forum, it is with great pleasure that the ADF acknowledges Dr Haikerwal's outstanding service to independent medicine by presenting him with the Bruce Shepherd medal.
Prof John Murtagh AM
Professor John Murtagh always wanted to be a scientist. While studying at Melbourne University, he extended his interest to teaching science, in particular the biological sciences and chemistry, which led him directly to an interest in practising medicine in third-world countries. In an incredible stroke of luck, or providence, John managed to find another doctor who shared the same interest at the same university, whom he wisely married. In time, his passion for teaching and rural medicine were combined with research to produce 12 books and 7 CD-ROMs on diagnostic strategies for General Practitioners treating a range of chronic diseases and disorders. Murtagh's General Practice is a textbook considered the "bible" of General Practice.
Independent medicine cannot exist without quality General Practice. Australian Prime Minister Sir Robert Menzies considered the relationship between the patient and General Practitioner to be so important that it needed to be protected in the Australian Constitution. It is because of clinical leaders such as Prof John Murtagh that independent medicine maintains its reputation for high productivity, accurate diagnosis and results for patients. We acknowledge this contribution for outstanding service to independent medicine with the presentation of the Bruce Shepherd Medal to Prof John Murtagh.
Dr Charles New OAM
Sydney Orthopaedic Spinal Surgeon Adjunct Professor Charles New has spent a considerable part of his medical career serving his country as a surgeon in the Royal Australian Army Medical Corps. He represents those doctors who are willing to step aside from their private practice, put on a service uniform and head to some of the world's biggest trouble spots to perform front-line surgery, often putting themselves in personal danger, in regions such as Rwanda, Banda Aceh and East Timor.
Recently, as a result of his outstanding service, Charles was promoted to the rank of Major General of the Australian Army and Surgeon General of the ADF Reserve. During the medical indemnity crisis, Dr New was able to obtain Federal Government consent for the Medical Indemnity Rescue Package to be based on a 'claims incurred' model, which allowed for the broadest possible level of protection for doctors and patients relying on medical indemnity cover.
Dr New's experience in leadership, training and strategy are highly valued by all who have known and worked with him. His contribution to the cause of independent medicine includes leadership roles as NSW Chairman of the Australian Society of Orthopaedic Surgeons (ASOS) and Federal Treasurer of the Australian Orthopaedic Association (AOA). At the same time, Charles has maintained an extraordinary professional commitment to the health and wellbeing of Australian Defence Force veterans and serving men and women, including the active recruitment of many of his medical colleagues into the Royal Australian Army Medical Corps.
Along the way, he has found time to run a private Orthopaedic practice and serve as a VMO at Nepean Hospital, as well as undertaking a teaching role at Sydney University. We recognise Dr Charles New's outstanding contribution to independent medicine with the presentation of a Bruce Shepherd Medal.
Dr Jim O 'Brien
Sydney Orthopaedic Surgeon Dr Jim O'Brien is one of a unique group of doctors who, having graduated from medicine and completed their specialist training, believed they were about to lead a 'normal' professional life. Suddenly, along comes the 1984 Doctors' Dispute and everything is turned upside down. Do you take a public stand on principle, or submit to a government takeover of private medical practice? It was for this reason that Dr O'Brien resigned from Manly Public Hospital, creating an uncertain future for his wife and 5 children, and joined with other Orthopaedic and Surgical colleagues in the 1984 Doctors' Dispute led by Dr Bruce Shepherd.
Dr O'Brien then went on to establish a private orthopaedic practice, working for many years at the Sydney Adventist Hospital (the SAN). Since the Doctors' Dispute, Dr Jim O'Brien has served his profession through his strong support and contribution to the Australian Doctors' Fund (now Australian Doctors' Federation) where he remains a highly regarded member of the ADF Management Committee.
Throughout his long career, Dr Jim O'Brien stayed true to his medical ethic and in a very personal way committed his life to the care of the sick and suffering, never wavering in his belief that human life is a precious gift and those who can preserve it must fulfil their high calling. Jim, you are a quiet and wonderful person. An inspiration to all of us. Devotion should be your middle name. You have always been there to support the cause and those you care for. You, above all, deserve a Bruce Shepherd Medal for outstanding service to independent medicine
Prof Julie Quinlivan
Not many professors can claim that they have actually established a medical school, but Professor Julie Quinlivan can. Julie became the youngest ever Dean of an Australian University Medical School when, in 2005, she was appointed as the Foundation Dean of Health and Head of the School of Medicine at Notre Dame University's Sydney Campus, before eventually becoming Executive Dean of Medicine and Pro Vice Chancellor.
The success of Notre Dame Medical School and its standing in Australian healthcare after a very short time is testament to the foundations that Prof Quinlivan laid and the values she established. These include insisting that all medical students at Notre Dame graduate with a comprehensive understanding of anatomy and whole-body systems as the foundation of their future training and career development.
Julie currently undertakes the demanding role of Director of the Professional Services Review (PSR), an organisation committed to ensuring ethical standards and accountability in the claiming of Medicare rebates. Prof Quinlivan's interest in research and writing has taken her to many areas of medicine and science, including palliative care for Rural Australians, strategies to combat family violence, vaccination, nutrition in pregnancy, nursing care, depression in Australian fathers and a wide range of pregnancy diseases, conditions and disorders. We present Prof Julie Quinlivan with the Bruce Shepherd Medal to acknowledge her achievements and outstanding service to independent medicine.
Dr Shaun Rudd
Dr Shaun Rudd represents the important contribution that many overseas-trained doctors have made to Australian medicine. Shaun obtained his medical degree from the Queen's University in Belfast in 1978. He is now a highly regarded General Practitioner on Queensland's Sunshine Coast.
Not only did Dr Rudd pursue a medical career, he also became a leader in his profession. He accepted directorships on a number of hospital boards, chaired a Division of General Practice and his local medical association, and served the QLD AMA in a number of roles, including as President in 2014-15 in the midst of a major contract dispute between the QLD Government and hospital doctors which threatened the independence of the profession.
During this time, Dr Rudd has served as a member and Director of the Australian Doctors' Federation. His cheerful and insightful observations and advice on a range of complex matters ensure that actions taken are grounded in reality. Shaun's training in commercial governance has also proved valuable to every medical organisation he has contributed to or led. The frontline of Australian healthcare are the men and women who devote themselves to the demanding role of the family doctor. We present Dr Rudd with the Bruce Shepherd Medal to acknowledge his unique and outstanding contribution to independent medicine.
Dr Adrian Sheen
On the western outskirts of Sydney lives a family doctor who exemplifies the best model of General Practice and family medicine. Dr Adrian Sheen was born in the UK and qualified at Middlesex Hospital, London. He became a House Surgeon at Waikato Hospital, New Zealand, and later a Resident at Nepean Hospital in Western Sydney. Private medical practice was his real calling, and from 1981 until the present (38 years), he has combined first class medical care and social charitable events (utilising his talents as a trombone player in his Mulgoa Rd Jazz Band, and his skills as a magician) to the benefit of his patients, his community and the numerous migrant groups he and his wife Suzy have supported.
Furthermore, Dr Sheen has established, promoted and supported a public charity, Vatu Health Inc., to deliver quality primary healthcare in Fiji. He regularly leads medical expeditions to Fiji to treat patients who would otherwise continue to suffer from preventable and curable conditions. His work has been recognised by the Prime Minister of Fiji, Mr Frank Bainimarama. Through this work Dr Sheen has contributed in a practical way to improving relationships between Australia and Fiji at a time when both countries face significant challenges.
Acting on the need to preserve quality General Practice, Adrian established and leads a Western Sydney GP support group known as "Doctors Action". This group has made representation at state and federal levels on various issues affecting quality primary medical care. Dr Sheen has served as Branch Councillor of the NSW AMA, Executive Director of a Division of General Practice, Vice President of the NSW AMA, Clinical Associate of two universities, university lecturer in General Practice, committee member of the Australian Doctors' Federation, as well as Chairman and organiser of the Nepean Local Medical Association and musician in the Australian Doctors' Orchestra. Dr Adrian Sheen's outstanding contribution to the independence of Australian medicine is recognised with the presentation of a Bruce Shepherd Medal.
Dr Gary Speck AM
Melbourne Orthopaedic Spinal Surgeon Dr Gary Speck commenced clinical practice in 1985 at the Alfred Hospital, Prahran where he continues to work as one of the most highly regarded Spinal Surgeons in Australian Orthopaedics.
In addition to the demands of his private practice, Gary has undertaken leadership positions in his College (RACS), the VIC AMA, and the Federal AMA as Councillor and Federal Vice President. He has served as Chairman and Director of the Australian Society of Orthopaedic Surgeons (ASOS), Chairman and Director of the Council of Procedural Specialists (COPS), as a member of several government committees, both federal and state, Director of the AMA, Director of the Australasian Medical Publishing Company Ltd and Chairman of the Board of the Medical Indemnity Protection Society (MIPS).
A master of diplomacy and quiet reason, with a firm grip on the details, Dr Speck has led his surgical colleagues in Orthopaedics through numerous crises with a cheerful smile and sharp pencil, never conceding a centimetre of professional freedom. For his outstanding contribution to independent medicine, we present Dr Gary Speck with a Bruce Shepherd Medal.
Dr Michael Steiner
Sydney Ophthalmologist Dr Michael Steiner arrived in Australia at the age of 2 from Prague. As the son of holocaust survivors, he understands what freedom means. His medical career includes being a pioneer in the performance of laser vision corrective surgery since its inception in Australia in 1991.
Not content to be simply a member of his professional organisations, Michael has undertaken leadership positions in his medical college as Honorary Secretary and President, as Chairman of his Medical Staff Council, as a member of the Executive Committee of the International Congress of Ophthalmology, and by making major contributions to the AMA at state and federal levels, including being President of the NSW Branch from 2010-2012.
Australian ophthalmologists have developed treatment modalities that deliver world's best eye health to all Australians, combining surgical skill and world-class technology. Dr Michael Steiner has dedicated his professional career to maintaining these standards and protecting the independence of the doctor/patient relationship.
Michael has served as President of the Australian Society of Ophthalmologists and continues to serve as a Director of the Council of Procedural Specialists (COPS). The Bruce Shepherd Medal is one way that we can acknowledge Dr Michael Steiner's outstanding contribution to independent medicine.
Prof Nicholas Talley AC
The highest standards of Australian medicine are reflected in the Medical Journal of Australia. Guarding the reputation of Australian medicine in this domain over the last 4 years has been Professor Nicholas Talley, an internationally recognised educator, university leader and researcher in the field of gastroenterology and epidemiology. Nicholas Talley graduated with an Honours Degree in Medicine from the University of NSW, before completing a PhD at the University of Sydney, an MD from the University of NSW and a Master of Medical Science from the University of Newcastle. He trained in Gastroenterology at Royal North Shore Hospital and the Mayo Clinic.
His career highlights include being Professor of Medicine at the University of Sydney, and Professor of Medicine and Professor of Epidemiology at the Mayo. He is currently Laureate Professor and Pro-Vice Chancellor at the University of Newcastle.
Professor Talley is considered an international authority in gastroenterology. He has published extensively in this field and in 2017 was named 'Australia's Most Cited Academic' by Google Scholar. There are many other achievements, both national and international, in Professor Talley's distinguished medical career, including serving as President of the Royal Australasian College of Physicians from 2014-16.
By pursuing excellence in every area of his professional career, Professor Talley has ensured that Australian medicine is recognised internationally for the quality of its education and research. His textbooks are well-known (and hopefully read!) by all medical students in Australia.
Professor Nick Talley took a strong stand in defending the profession's independence when as Chair of the Council of Presidents of Medical Colleges (CPMC) he led opposition to a proposal that would have seen a government agency overseeing the accreditation of the Australian medical profession. His actions helped maintain the independent accreditation role of the Australian Medical Council (AMC).
Today we recognise Professor Nicholas Talley's achievements with the presentation of the Bruce Shepherd Medal for his outstanding service to independent medicine.